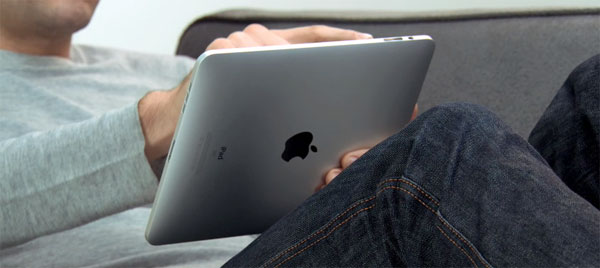 New gadget released into the world market. Since this mobile computer hasn't come to Indonesia yet till i wrote this article, so we just can get a simple preview of the Apple iPad. What do you think when you firstly hear about this product? Don't ask too much, this is just a revolution of a tablet internet which have so many weaknesses than you thought (if you thought that it's a tablet PC).
I prefer to call it the big version of iPod Touch. The gadget that allow us to enjoy any kind of multimedia files, bundled with browser and connectivity tools that packaged in Apple OS (like the Apple iPhone did). The glance came with the large of 9,7" Touch-screen display, the slim design, and the nice look like the iPhone.
As I've said before, this is not a tablet PC – or even a netbook. This gadget is only gave us the touchy features of iBook reader (seems like e-book, but not at all. Because iBook is Apple's format for their electronic books), internet browsing, multimedia player, and another compliment features to captures the additional excitements.
Pay for it, so you can have the prestige and the sophisticated of a limited functions gadget to show to your friends.
Just take a look of the image preview and the simple description below :
Key features
Magnificent 9.7" capacitive touchscreen display with a resolution of 1024 x 768 pixels
Wi-Fi 802.11 b/g/n connectivity
Optional 3G connectivity (data only)
1 GHz Apple A4 CPU
iPhone OS 3.2
16/32/64 GB of onboard storage
Weight of 680 grams (730 grams for the 3G version)
Very slim 12.7mm waistline
Bluetooth 2.1 + EDR
Haptics feedback
10 hours battery life and 1 month of stand-by
Accelerometer and compass
Compatible with every iPhone app without any modifications
The cheapest version costs less than an unlocked iPhone
iBook application
The keyboard dock (purchased separately) easily converts the iPad into a nettop.
Main disadvantages
It's not a computer but a big iPod Touch
No multitasking
No Flash support for the web browser
No camera
No standard USB port (you can get USB connectivity with an accessory but you need to pay extra)
No real GPS receiver (though there is cell-tower triangulation)
130 US dollars (90 euro) for a 3G modem seems pricey
iTunes required for uploading content
No kickstand – it cannot stand on a table without the dock
No USB host
Looks pretty easy to drop
No exchangeable battery
Typing is quite uncomfortable
micro-SIM, instead of regular SIM for the 3G models
No memory card slot