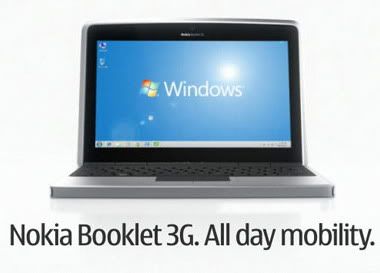 Pasar netbook tumbuh dengan subur pada periode belakangan hari ini. Semakin banyak orang membutuhkan sebuah perangkat mobile untuk menghubungkannya dengan seluruh punjuru dunia melalui koneksi internet.  Koneksi cepat, stabil dan selalu siap dimana saja – kapan saja.
Dan setelah dengan mengejutkan "berkompromi" dengan sistem Linux pada OS Maemo 5 dengan ponsel baru : N900, yang dikategorikan dalam kelas Tablet Phone. Maka kini Nokia kembali membawa gebrakan baru dengan memperkenalkan perangkat yang mendukung gaya online anda. Inilah, Nokia booklet3G. Sebuah Netbook – bukan telepon seluler.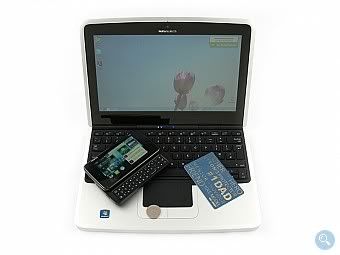 Seperti namanya, Nokia Booklet diproduksi dengan dukungan modem terintegrasi  UMTS/3G, sehingga Anda dapat menggunakan jaringan dari setiap operator GSM dengan memasukkan kartu SIM. Desain ramping dengan fitur lengkap menjadikannya sebagai gadget "sempurna".



Hal pertama yang akan anda temukan adalah spesifkasi sebuah netbook yang mungkin agak kurang biasa diantara netbook lain yang sering kita jumpai :
Intel® Atom™ Z530, 1.6 GHz Intel® Poulsbo US15W
RAM: 1 GB DDR2
Hard drive: 120 GB
Wi-Fi: 802.11 b/g/n
Bluetooth 2.1 + EDR
Built-in 3G modem (data calls only): WCDMA 850/1900/2100
10.1-inch, 1,280 x 720 pixel display
1.3 megapixel FF camera
HDMI port for HD video out
Built-in stereo speakers, and microphone
Analog audio output/headphone out (with OMTP headsets also functions as audio-in)
HDMI 1.2 out for HD video
3 x USB 2.0
3.5 mm headphone out (OMTP: with OMTP headsets also functions as audio in)
DC-in
SD card reader
SIM/USIM slot
Accelerometer (motion sensor)
Integrated GPS and A-GPS
Ovi Maps application
Aircraft-grade aluminum slim body with super chassis construction
Dimensions: 10.39 x 7.28 (with hinge) x .78 inches
Weight: 44.09 ounces
Genuine Windows 7 Starter
MS Office Small Business (60-day trial)
MS Internet Explorer 8
Ovi Suite (must be downloaded separately)
Social Hub (must be downloaded separately)
F-Secure Internet Security 2010 (30-day trial)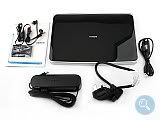 Ya, Nokia Booklet3G dibungkus dengan Windows 7 Starter atau Home Premium (bukan Windows 7 Mobile version).  Ini sebuah improvisasi besar untuk tidak menggunakan OS Windows XP seperti netbook lain pada umumnya. Hmm, era baru sudah datang – kenapa bertahan dengan sistem yang lama.
Built-in aGPS (assisted GPS) pada netbook ini adalah fitur tambahan yang cukup jarang kita temukan pada komputer portabel, sehingga Nokia Booklet 3G dapat disebut sebagai perangkat navigasi dilengkapi dengan 10-inch layar dan keyboard QWERTY. Nokia diharapkan untuk merilis versi Maps Ovi yang diperlukan, segera.
Built-in 3G modem melakukan hal yang besar – cukup sisipkan saja kartu SIM Anda, beri sedikit pengaturan yang diperlukan (APN, username dan password) dan anda akan segera terhubung ke internet.
Kejutan lain yang diusung oleh Nokia Booklet3G ini adalah paket baterei yang disertakan. Dengan format 6 cell tanpa informasi jelas mengenai kapasitasnya – Nokia meng-klaim kemampuan daya tahan netbook ini mencapai 8 jam, bahkan untuk bekerja berat saat koneksi  3G tersambung.
Kesimpulannya, Nokia Booklet 3G adalah netbook dalam kategori high-end – terlihat menarik, dilengkapi dengan baterai yang kuat, OS yang cermat, GPS, modem 3G … dan itu saja. Dengan harga sekitar $600 maka netbook ini akan bersaing dengan vendor-vendor besar yang sudah menjadi petarung lama – Toshiba, Acer, Sony, Lenovo dan lainnya.
Mungkin memang sedikit terlalu mahal jika dibandingkan satu persatu, mengingat kelebihan yang dimiliki Booklet3G adalah sebuah fitur substitusi saja dan Nokia adalah petarung baru di dunia netbook.
Jadi, anda tertarik memiliki gadget ini?
Sumber : Phonearena.com