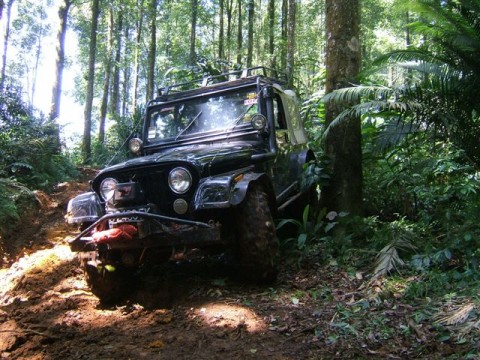 Visitors wanting to hire 4×4 vehicles have a Wide range to choose from and there are hundreds of both well-paved roads and rocky tracks to be explored. Alternatively visitors can enjoy a number of organised 4×4 driving tours of the mountains, which usually include trips to traditional villages, waterfalls and objects of natural beauty.
In contrast to the majority of holidaymakers, the Balinese worship the mountains and believe the sea to be the domain of evil spirits. Any trip up the numerous roads into the hills will reveal why the locals believe this part of the island to be sacred. The beauty of the mountains, sculpted rice paddies and deep dramatic valleys are contributing factors to the island's reputation as one of the most beautiful on earth.
Equally awe-inspiring, the east coast of Bali offers excellent off-road possibilities. The road east from the coastal town of Candidasa cuts through spectacular scenery; beautifully sculpted rice paddy basins stretching from sloping hills right down to the glimmering ocean. About 30 minutes drive from Candidasa is the historical and picturesque town of Amlapura, once named Karangasem, the capital of the regency with the same name and rechristened after the eruption of the nearby Mount Agung in 1963 in a bid to hopefully prevent future eruptions. Heading on eastwards towards Amed, the views are magnificent with lush vegetation giving way to a more arid landscape. Out of the rocky soil the local farmers harvest cassava, tapioca and peanuts with the land far too dry for rice cultivation.
Amed is a small coastal village, which survives on harvesting seasalt and a growing tourism industry. The coastal road is dotted with The major attraction for visitors to this area is the peace and seclusion and it's proximity to some of the best diving on the island. The coastal road winds round rocky coves and secluded bays bordered by a sparkling ocean speckled with colourful jukung (fishing boats).